Welcome to Quizzn, learner!
Dashapp
We didn't sit without work. New update includes fast and fully responsive Dashapp. All the same features, only more effective. Enjoy and write us your feedback.
Introducing quizzner's dashboard for fast and productive management of your study resources. Dashapp is the next step we took to make your study experience more efficient, easy quiz creation with Quiz Maker, fast search, and more. Even more features are on the way. Due to the latest extensive update of Dashapp, it is currently in testing state, therefore if you encounter unusual behaviour, please let us know. You feedback is highly appreciated. Happy studying!
Quiz Maker new
Yes, now adding questions is even easier. Simply paste the text, select, and done. As easy as that, as many as you want. Enjoy!
To try it out, head to any of your quizzes, select "Edit" tab on the top, and hit "Quiz Maker". Make sure to read hints on the bottom of the Quiz Maker page.
Create and share study materials
When studying gets hard, Quizzn is the tool to rely on. It is more than just 'flashcards' or 'quiz' app, it is a tool that combines every aspect of learning process:
Preparing materials
Looking for references
Discussing with others
Practicing!
.
Search for materials
Quizzn is a public service that connects people, creating unique community that is ready to help and share materials.
Discover materials
Create Study Groups new
Connecting people with the same study interests has never been easier. Separate discussion thread, add or suggest materials, manage members and assign group managers.
Discover groups
5 unique features
you won't find anywhere else
Explanations
Add explanation or reference to any question. Not only it gives you more information, it creates an opportunity to study with others, since anyone can add an explanation to any question. Vote for the best to support it. Also, go through the explanations as you practice it in any mode.
ReQuiz
Now you can requiz questions from other quizzes to mention it in your quiz. Note, that you can not edit questions that is not created by you, but you still can add explanation and comment, and now, add and practice in your quiz. Another way to use 'Requiz' feature is to create quizzes from existing questions. That way quizzes can be much more flexible and there's no need to duplicate same question over and over.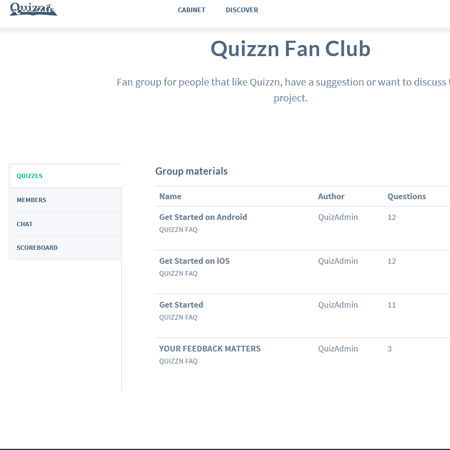 Study Groups
New feature allows to create study groups to share materials and discuss anything together. Anyone can create a study group, anyone can become a member of a study group, share study materials and compare scores.
Manage
As a creator of a study group, you have the ability to add and approve study materials, approve members and promote a member to a manager to help you manage. To become a member, you need to be approved by the founder or a manager of the group. The founder and managers can add materials directly, while member's suggestions have to be approved.
Discuss
Discussion threads are available to discuss questions and inside a study group (limited to the members).
Explore
Every Quizzner makes a valuable contribution to our community, making studying easier for someone. In fact, we do not create any study materials, it's all done by people like you.